xirminja nahpy benry
Pablo Sanz (Sonic Arts Research Centre Belfast (SARC), Queen´s University Belfast, UK)
ABSTRACT:
xirminja nahpy benry is an immersion into the sonic environments of flooded tropical rainforests in the Brazilian Central Amazon. The work is based on an extensive series of spatial long-form recordings made over a several week period during the dry season of 2015 at multiple sites across the Mamirauá and Amanã Reserves. The installation consists of a durational sonic-spatial composition exploring the stunning complexity of the sonic mesh created by insects, birds, amphibians, fishes, reptiles, mammals, vegetational matter and water through a 24-hour cycle.
DESCRIPTION:
The work proposed for presentation at Balance-Unbalance 2017 is an immersive installation part of an emerging series of works based on sonic materials gathered during intensive fieldwork in the Central Amazon Region in 2015. The project is conceived as an ongoing series with multiple outputs (immersive installations and live performances) based on the creative exploration of ideas of distributed environmental sensing/recording and durational/spatial sonic perception through the use of specific spatial audio production techniques and compositional strategies. The project is framed in an ongoing creative practice focusing on non-human and materials agency with an interest to challenge prevalent notions of Nature which take the 'environment' as something 'exterior' to the Human and Culture.
The following section describes the ideas and creative process of the project, providing specific details about the fieldwork and studio-based compositional strategies.
The fieldwork took place at the Mamirauá and Amanã Reserves as part of a 3-month stay in Brazil in 2015. The two reserves are located approximately 600 km west of Manaus in the Médio Solimões region, a central area of the Brazilian state of Amazonas, and are joined by adjacent Jaú National Park to form a corridor spanning over 20,000 square miles (52,000 km2) of protected rainforest. The reserves are part of the Central Amazon Conservation Complex, a World Heritage site since 2000 which makes up the largest protected area in the Amazon Basin and is one of the planet's richest regions in terms of biodiversity. This territory consists mostly of flooded forest and hosts more than 400 species of birds and at least 45 species of mammals. Two species of monkeys, the white uakari and the black squirrel monkey are endemic of this region. The reserves are also home for numerous fish species, the Amazon manatee, two species of river dolphins, a large diversity of amphibians, reptilians, insects and countless botanical species.
The fieldwork was conducted in cooperation with the Mamirauá Institute, the organization responsible to manage both reserves. The Institute, which is a not-for-profit organization funded and supervised by the Brazilian Ministry of Science, Technology and Innovation, functions as one of the Ministry's research units. Mamirauá Institute facilitated an extended stay in three scientific research stations they maintain in the reserves. The fieldwork was developed in collaboration with researchers and specialist field assistants from local communities, exploring areas across several kilometres surrounding each of the research stations. The fieldwork consisted in the collection of environmental sound recordings using a variety of specific location recording strategies to gather different types of sonic materials.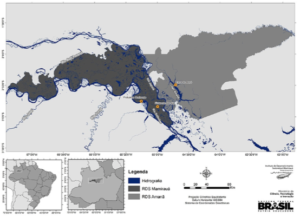 Fig. 1. Mamirauá and Amanã Reserves map with location of the three scientific bases visited.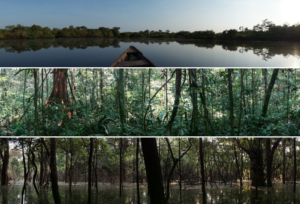 Panoramic images taken during fieldwork in the reserves.
The source materials used in the project consist of a series of long-form recording produced with a methodology based on the use of multiple self-made omnidirectional units deployed simultaneously throughout specific chosen sites in relative proximity. Over the course of several weeks, different locations and types of environments (i.e. terra firma, flooded forests areas) were explored using this methodology, investigating the diverse manifestations of the biodiversity and sonic environments in the region. The unattended recording sessions produced an average of 12 continuous hours of sonic materials each, amounting for ca. 300 hours of raw material in total.
In the studio, the compositional process is based on a meticulous listening, analysis, editing and assembling of the sonic materials. Firstly, all the original recordings have been synchronised according to their original time-stamps in a 24-hour timeline and are explored as a multi-dimensional 'sonic hyper- object'. The richness, variety and amount of materials produced allows to explore different compositional 'pathways' leading towards the eventual creation of multiple manifestations of the project based on spatial and temporal layering and recombination of clusters of fragments which are assembled into seamless immersive compositions. The projects uses Ambisonic production techniques which produce an enveloping and vidid spatial feeling and provide flexibility for playback in variable speaker setups and therefore the adaptation to different presentation contexts.
The most recent version of the work features a 6-hour 35min (∞) composition exploring a continuous 24- hour cycle. The installation was premiered in November 2016 at Sonorities Festival 2016, Belfast, UK using an eight-speaker configuration in pitch dark. Previous versions include an installation presented at Sonic Environments / ACMC 2016 Interdisciplinary Conference, Queensland Conservatorium, Brisbane, Australia in July 2016 and a quadraphonic live performance which took place in September 2016 at EARSHOTS! concert series, One Hundred Years Gallery, London, UK.
This project has been made possible thanks to several partners and supporters: Mamirauá Institute (Tefé, Amazonas), SARC-Sonic Arts Research Centre (Belfast), LASom-Laboratorio de Acústica e Artes Sonoras (São Paulo), T-37 (Madrid), Santander Foundation UK, Sound & Music UK.
AUTHOR BIOGRAPHY:
Pablo Sanz is an artist, composer and field recordist currently based in the UK. He makes site-specific projects, multichannel installations, immersive live performances, headphone pieces and publications. His activities are engaged with the exploration of aesthetic and spatial aspects of sonic perception, working primarily with environmental sound as raw material, extended listening technologies, architectural physical space and spatial audio strategies. Thresholds of human perception and the interrelations between non- humans, matter and phenomena are essential in his practice.
His work is presented internationally in a variety of contexts and has been awarded in the competition 'Europe – A Sound Panorama' (2011, Goethe Institute, Deutschlandradio Kultur, ZKM-Karlsruhe) and the '5th On-Air Radiophonic Art Prize' (2009, Círculo de Bellas Artes, Madrid). He has been artist-in-residency at Inland-Campo Adentro (Catalonia), Matadero (Madrid), Nau Côclea (Girona), FDD (Lisbon), Sonoscopia (Porto), ARE Holland (Enschede), Q-O2 (Brussels), CONA-Institute for Contemporary arts Processing (Ljubljana) and LASom-Laboratory for Sonic Arts and Acoustics (São Paulo). Recent projects include field recording work in the Central Amazon region supported by Brazilian and British research organisations, site-specific architectural interventions in The Netherlands, Spain and Northern Ireland, radio commissions for Radio Reina Sofía Museum in Madrid, FON Air UK, Atelier de Création Sonore Radiophonique / Silence Radio in Belgium and online releases on Very Quiet Records (UK) and Sonic Terrain (Colombia) among others.
In 2004 he became an active member of the online publication mediateletipos.net, a collaborative independent initiative devoted to the dissemination of aural culture and sonic arts through which he contributed to several curatorial projects including commissioned programmes for Sónar Festival (Barcelona) and Sensxperiment (Córdoba). In 2007 he relocated to The Netherlands, completing studies at the Institute of Sonology and the ArtScience Interfaculty in the Royal Conservatory and the Royal Academy of Arts of The Hague. Since 2013 he is based at the Sonic Arts Research Centre (SARC) in Belfast, working towards a PhD in sonic arts practice (Sound~Space~Perception~Ecologies: Environmental Composition Approaches).
Balance-Unbalance 2017
Balance-Unbalance (BunB)
is an International Conference designed to use art as a catalyst to explore intersections between NATURE, SCIENCE, TECHNOLOGY and SOCIETY as we move into an era of both unprecedented ecological threats and transdisciplinary possibilities.
Today Upcoming Events
No upcoming events for today
15 Next Events
No upcoming events for today