White Cart Loom
Vicky Isley and Paul Smith (United Kingdom Bournemouth University / boredomresearch)
http://www.boredomresearch.net
visley@bournemouth.ac.uk
psmith@bournemouth.ac.uk
Abstract
White Cart Loom has been produced in response to scientific research looking to interpret and understand data encoded in the biological process of shell formation in the now endangered freshwater pearl mussel.
The project connects biodiversity with human creativity and its first expression through programming, with textile designers use of the first programmable machine the Jacquard loom. In Paisley Scotland, this process was used exploring the creative possibilities of the world renowned paisley pattern. Rapid industrialisation of textile production contributed to habitat destruction and freshwater pearl mussels are now locally extinct.
Opening a space to reflect on the interaction between industrial processes and sustainability in a world populated by 7.4 billion humans – each with a strong sense of unique identity – boredomresearch are integrating biology and computation to create a unique pearlescent paisley form for every human alive on earth. In doing so they have re-imagined the paisley pattern as if it had grown in the shell of a freshwater pearl mussel, reconnecting the design with its bio-inspired origins.
boredomresearch ask: "Can a digital, data rich, world advance the value of the individual both in terms of human culture and the last surviving representative of an endangered species."
Description
White Cart Loom is a digital artwork built using real time 3D software, presented in the form of a full size reconstruction of a Jacquard loom, where the Jacquard (the mechanism which reads punch cards to control the raising a lowering of threads), has been replaced by a contemporary computer. A large HD screen is mounted behind a length of white fabric, as though in production. On this screen a digital shuttle shoots back and forth and unique forms, inspired by the paisley pattern and freshwater pearl mussels, are fed in from the top. Once fully in view, each form is released, bursting into life with its unique motion characteristics propelling it in smooth liquid spirals across the screen. Eventually these forms drift from view as new ones are created. The forms are composed by combining geometric elements, following a bio- inspired grammar and nodular construction, with modulated oscillations of scale and rotation.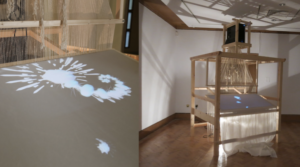 The forms are textured with a pearlescent quality, varying in hue, and include some coloured jewel like elements and occasional glowing parts. Every form created is unique and the process of creation will continue until a form has been created for every human alive on earth on the date of first launch (1 November 2016).
The process is accompanied by a mellow and somber generative audio composition, including dark G major 7th and E minor tones, natural motifs and the gentle rhythmic beats of the loom. The structure is illuminated from inside by a caged light, picking out the threads and casting shadows on the surrounding surfaces.
Author Biography
boredomresearch is a collaboration between British artists Vicky Isley and Paul Smith, their work benefits from a long lasting fascination in the mechanics of the biological world which they explore using contemporary technology. They transcend boundaries between art, science and society, with previous projects exploring topics including: the intricate biological signatures of neural activity, the frontiers of disease modeling and our cultural obsession with speed. boredomresearch projects open channels for valuable dialogue and engagement between public and scientific domains – including their recent artwork AfterGlow, a new representation of a malaria infection transmission scenario which was awarded the 2016 Moving Image Lumen Prize.
Based at the National Centre for Computer Animation, Bournemouth University, Isley and Smith are Co- Founders of BLAST (Bournemouth Lab of Art, Science & Technology) an innovative program of interdisciplinary workshops and eco-action events demonstrating the value of art as a catalyst for negotiating the complexities of rapid, technologically complex, social and ecological change.
The artworks of boredomresearch are in collections around the world including the British Council and Borusan Contemporary Art Collection, Istanbul. Recent exhibitions include: TRANSITIO MX_06 Electronic Arts and Video Festival, Mexico City Soft Control: Art, Science and the Technological Unconscious, Slovenia.
Balance-Unbalance 2017
Balance-Unbalance (BunB)
is an International Conference designed to use art as a catalyst to explore intersections between NATURE, SCIENCE, TECHNOLOGY and SOCIETY as we move into an era of both unprecedented ecological threats and transdisciplinary possibilities.
Today Upcoming Events
No upcoming events for today
15 Next Events
No upcoming events for today