The Northern Polar Studies
Gavin Baily and Tom Corby (Tracemedia/University of Westminster, London, UK)
ABSTRACT:
The Northern Polar Studies is a video installation depicting the retreat of Arctic sea ice as tracked by satellite data from 1984 up to the present day. The project employs binary numeric information from a number of satellites, drifting buoys and other environmental resources to develop pictorial animations showing the Arctic region waxing and waning through time and ultimately shrinking to its current denuded state. This conversation of numeric data produces a pulsating and melancholy image of the arctic region, reminiscent of a living organ or lung breaking down under enormous environmental pressures.
While photography/film can capture an image of landscape within the 'here and now', The Northern Polar Studies develops an approach we term 'deep time landscape' that shows how historic and contemporary climate data can drive artworks. This 'deep time' approach recasts climate data as an artistic medium by exploiting its potential to track, pattern and show environmental changes over extended periods. By employing this record to drive screen-based installations we seek to create a mediated experience of landscape re-modelled by the Earth's changing energy signature.
DESCRIPTION: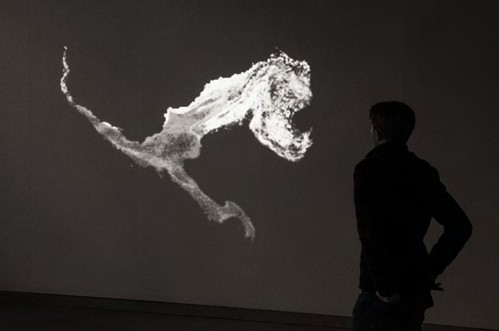 The Northern Polar Studies (2015), animates a time-series of climate data from the arctic between 1984 – 2012 derived from drifting buoys and satellite measurements of sea ice age to drive a looped animation of 3.12-minutes duration showing ice retreat during the period. By presenting this data in visual form, an uncanny vision of phantasmagoric shapes, figures and tendrils of environmental ruination is presented that is in equal part disturbing and fascinating with the brightest tones in the work indicating the oldest ice formations of 10-years or more and darkest the most recent, i.e. each year of the 3.12-minute animation lasts 7 seconds.
Northern Polar Studies is part of a research project supported by and in collaboration with the British Antarctic Survey seeking to explore how climate data can be used to develop artistic representations of climate change. The data originates in climate simulations developed by the University of Colorado Boulder, NASA National Snow and Ice Data Center Distributed Active Archive Center. The method used to estimate sea ice age is one that involves tracking the sea ice from year-to-year using gridded ice motion vectors; this is called Lagrangian tracking. The original data can be found at: http://nsidc.org/data/docs/daac/nsidc0611-sea-ice-age
The visualization of large-scale environmental data sets provides opportunities for artists to develop new ways of representing landscapes and sites impacted by climate change. The project shows the yearly summer-winter fluctuations of arctic sea ice age (minima-maxima) over an extended period of time as ice coverage becomes increasingly denuded. As artistic explorations these visualizations enable us to think about landscapes, sites and environments as extended temporal forms that rather than being static or unchanging, are re-made and re-shaped via the effects of global warming and ultimately our own behaviours. When data develops a cultural life through visualization, it has the potential to produce both cognitive insights, but also subjective experiences. The approaches explored in the Northern Polar Studies make concrete complex environmental phenomena as a time-based visual patterning that functions to produce affective, immersive and aesthetic encounters. Work of this nature has the potential to both transform scientific data practices – by showing how they can have a public life outside the lab, and artistic disciplines by providing access to new ways of imaging the world; in effect new mediums of expression.
Acknowledgements:
The Northern Polar Studies has benefitted from the wisdom and generosity of Dr Beatrix Schlarb- Ridley,
Professor Mike Meredith from the British Antarctic Survey and Nathan Cunningham from the UK Data Archive. Ongoing support for this project is provided by Arts Council England, the UK Arts and Humanities Research Council and the UK Natural Environment Research Council, and the University of Westminster.
AUTHOR BIOGRAPHIE(S):
Tom Corby and Gavin Baily collaborating since the 1990's on artworks, texts and research that broadly explore intersections of environmental, technological and social processes. Recent work includes the use of information from the climate, meteorological and geological record to visually condense the aleatory and hidden aspects of environmental sites and landscape, and the employment of social media platforms to produce speculative geographies and experimental maps. At the heart of much of this work is an interest in data, employed as a medium beyond a conventional analytics approach, but which stresses its critical, experiential and affective potential.
Balance-Unbalance 2017
Balance-Unbalance (BunB)
is an International Conference designed to use art as a catalyst to explore intersections between NATURE, SCIENCE, TECHNOLOGY and SOCIETY as we move into an era of both unprecedented ecological threats and transdisciplinary possibilities.
Today Upcoming Events
No upcoming events for today
15 Next Events
No upcoming events for today