Survival River Series
Brydee Rood (Auckland New Zealand)
http://brydeerood.blogspot.com/
ABSTRACT:
Floating with a composition of survival blanket pieces on the Whanganui River, I became a caretaker and guardian of the river, seeking balance within a fragile relationship between man and river, the precarious materiality of the pieces an ever-shifting dialogue. Survival River Series speaks to the state of emergency faced by many rivers across the world and our complex role as poisoners and potential saviours.
There is something fascinating that exists between ritual and habit; of the things we do habitually versus an act of ritual, it murky and vague sometimes, maybe some old habits become rituals and some old rituals become habits – the conscious, unconscious, practiced and learnt knowledge that inherently develops our mentality and belief structure and the age old questioning of why we do the things we do? Man's contemporary relationship with water is questionable, underscored by geopolitics; viewed as a resource to be used, polluted, wasted and consumed at a price albeit economic, social and environmental. The work seeks to quiet the imposed value of water within a capitalist structure, to evoke an alternative value and express a reverent positive memory exchange with the body of water existing within us and connecting us to the earths Rivers.
DESCRIPTION: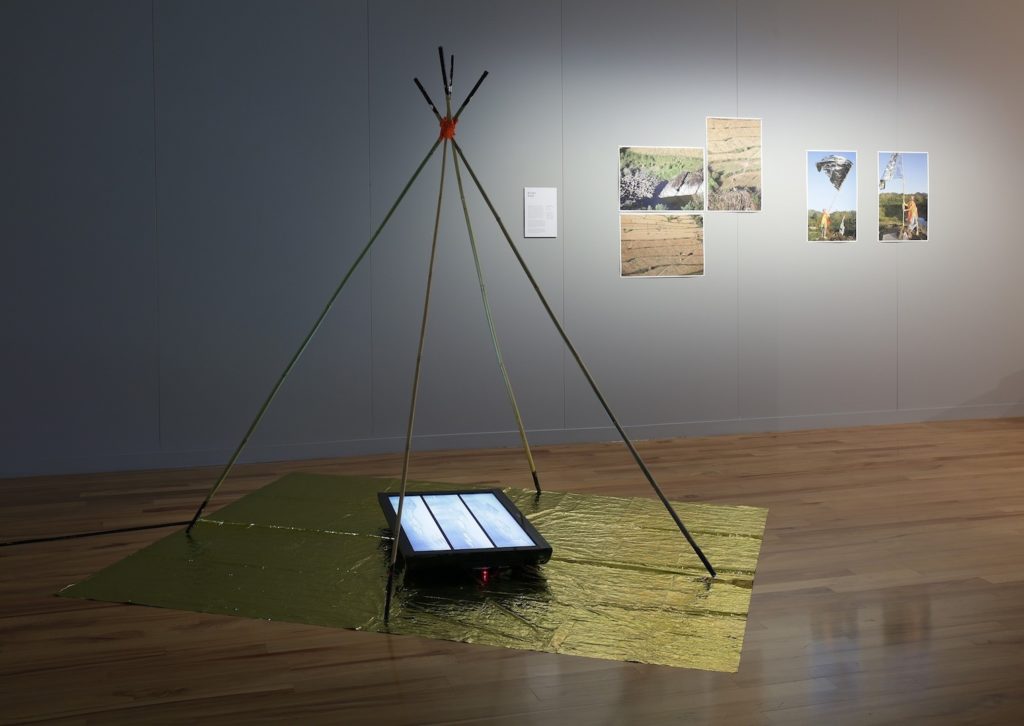 As an installed AV work, involving video installation/projection of the Survival River Series, Gold Waters Whanganui 2016 and photographic documentation from Survival River Series, River Flag 2015.

AUTHOR BIOGRAPHY:
Brydee Rood b.1978
Fulbright Scholar 2012
Growing up in Auckland, New Zealand in the 80's with flashy material values mingling with the cobbled together treehut and patch of native bush at the bottom of the road, spurred a vibrant curiosity for the world around me and an insatiable DIY instinct cross-pollinated with a reverent respect for nature. In 2007 I graduated with a Masters Degree in Fine Arts from the Elam School of Fine Arts, University of Auckland where I focussed on environmental installation. I have lived and worked in New Zealand, Germany, India, Indonesia, USA, Japan, Mexico and The Netherlands; these places and their inherent attitudes and patterns of consumption have greatly influenced my visual practice evidenced by successive site-responsive projects including Survival River Series and The Rainmaker, navigating 3 successive, sodden Monsoon seasons, questioning our human relationship with water, waste, weather and posing alternative values in a changing environment. In my early career, my work has been selected for exhibition across an international spectrum framed in environments ranging from urban canals and coastal national parks to dessert villages; to the exterior of a working rubbish truck; to an artist booth at PULSE Contemporary Art Fair; into the underbellies and back street alleys of Wellington, New York, Melbourne and Berlin.
Balance-Unbalance 2017
Balance-Unbalance (BunB)
is an International Conference designed to use art as a catalyst to explore intersections between NATURE, SCIENCE, TECHNOLOGY and SOCIETY as we move into an era of both unprecedented ecological threats and transdisciplinary possibilities.
Today Upcoming Events
No upcoming events for today
15 Next Events
No upcoming events for today