Multispecies Roundtable for Climate Impact
AUTHORS: Pamela Cajilig1, Diego S. Maranan1, 2, 3, Arlene Sy4, Oliver Salva1, Angelo Vermeulen3, 5
AFFILIATIONS: 1 Curiosity Design Research, 2 University of the Philippines Open University, 3 Space, Ecologies, Art, and Design, 4 Independent artist, 5 Delft University of Technology
LOCATION: 1, 2, 4 The Philippines, 3 Belgium, 5 The Netherlands.
pamela@curiosity.ph : http://www.curiosity.ph
dmaranan@upou.edu.ph : http://www.diegomaranan.com
arlene.sy@gmail.com : http://www.arlenesy.com
birdie@curiosity.ph : http://www.curiosity.ph
angelo@sead.network : http://www.angelovermeulen.net
ABSTRACT: This poster details a speculative framework—a Multispecies Roundtable for Climate Impact— for interpreting climate- and weather-related information from a variety of biological and artificial agents and data sources. Based on our experience in designing interventions for disaster (Cajilig & Salva, 2014), our framework integrates information across various stakeholders to help arrive at decisions that can protect lives, natural and artificial resources, and livelihoods.
DESCRIPTION: The Philippines is one of the most typhoon prone countries in world (Bankoff, 2003), and its government has invested significantly in data technology which has proven to be critical in planning for climate impact. However, there is conflict as to how this data ought to be interpreted and used by the technoscientific community on one hand and, on the other, by sectors of society who rely on traditional and embodied knowledge of the natural environment. How do we interpret the information equitably to make decisions that can protect lives, natural and artificial resources, and livelihoods? We take artist Angelo Vermeulen's notion of a multispecies roundtable for co-creating systems—in which plants, computers, and people are brought together in mutually beneficial ways (Vermeulen, 2016)—and apply it to the context of natural disaster management. This design concept explores how we can make better decisions for the common good by building a community practice around climate impact that is made up humans, nonhuman animals, and artificial intelligence. The decision-making process draws from machine learning: roundtable actors repeatedly decide on a course of action, until they make a decision that succeeds. We propose to integrate ethnoscientific models for weather and climate prediction by indigenous and artisanal groups. As an initial step, representatives and the technoscientific community sit at the roundtable to negotiate how ethnoscientific information can be used with the latter's predictive models. Further iterations of the concept will explore the involvement of other agents. What if animals and plants also had a seat at the roundtable? What if machines can be considered as a stakeholder of the commons? Possible technologies that can be brought to bear on our framework include brain-computer interfaces, location tracking and gesture-identification technologies to interpret the behavior of and thoughts non-human animals. To involve the ethnoscientific communities, we propose using mobile apps that can gamify their decision-making processes. We suggest that integrating these processes through machine learning allows the roundtable to improve integrating information and making recommendations to protect lives, natural and artificial resources, and livelihoods. The figure below summarizes key aspects of the framework.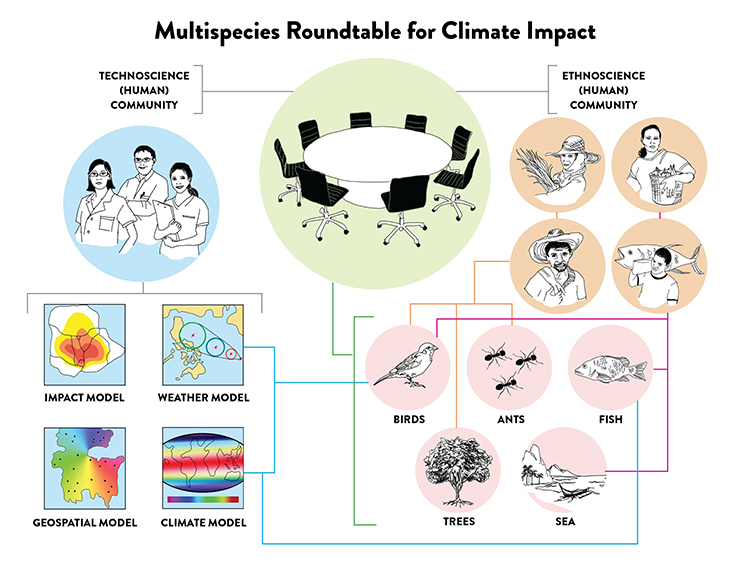 Bankoff, G. (2003). Cultures of disaster: society and natural hazards in the Philippines. London: Routledge.
Cajilig, P., & Salva, O. (2014, October). Creating Political Artifacts with Design Thinking: Shelter Prototype
Development in a Disaster Context. Conference paper presented at the 36th Annual Conference of UGAT (Uganayang Pang-AghamTao) / Anthropological Association of the Philippines, St. Louis University, Baguio City, Philippines.
Vermeulen, A. (2016, April). Living computers, Mars simulations and DIY Starships: Advancing crossdisciplinary and cross-cultural collaboration. Lecture presented at the CogNovo Research Seminar Series, Plymouth University, UK. Retrieved from http://hdl.handle.net/10026.1/5068
AUTHOR BIOGRAPHIE(S): Pamela Cajilig is a design and business anthropologist, and co-founder and Principal at Curiosity Design Research, a consultancy that helps organizations understand human experiences so that design can be used as a platform for inspiration, solutions, and social change. Pamela has been involved in design-based recovery research projects during the aftermath of Typhoon Haiyan, and has worked in disaster preparedness and response for various government agencies. Diego Maranan is an embodied cognition researcher and designer, assistant professor at the University of the Philippines. Marie Curie Fellow at the CogNovo programme at Plymouth University, and co-founder of Curiosity. Arlene Sy is an independent visual artist, illustrator, and art director based in Manila. Oliver Salva is co-founder and General Manager of Curiosity, where he works in business innovation. Angelo Vermeulen is an biologist, artist, and space systems researcher at TU Delft. He has served as a crew commander for NASA; co-founded Space, Ecologies, Art, and Design with Diego; and is currently a TED Senior Fellow.
Balance-Unbalance 2017
Balance-Unbalance (BunB)
is an International Conference designed to use art as a catalyst to explore intersections between NATURE, SCIENCE, TECHNOLOGY and SOCIETY as we move into an era of both unprecedented ecological threats and transdisciplinary possibilities.
Today Upcoming Events
No upcoming events for today
15 Next Events
No upcoming events for today