MELTDOWN IN THE AGE OF THE ANTHROPOCENE
Annette Mangaard
Abstract
As an artist, I act as a harbinger, demonstrating different sensibilities and modes of seeing via imagery that reveals both unfolding environmental conditions, and affective states. I propose that the traditional documentary format cannot in itself encapsulate disturbing contemporary conditions and affective states, especially given the ubiquity of new technologies for representation. I demonstrate new ways of illustrating and evoking the affective aspects of environmental consequence by juxtaposing a short documentary on the collection of water from an iceberg with an immersive installation displaying the vulnerability of the iceberg. Our relationship with nature has become so disconnected that I propose that through situating imagery of the natural environment in a media-based exhibition it opens up the possibility for affect. Affect by nature of its form, disrupts and disturbs creating a state of flux, and therefore opening up opportunities for the possibility of change. This invites a subconscious process of assimilation, and emotional connection in the spectator, generating the chance for deeper insights, associations and future potentialities with regards to our relationship to the environment. Using a creative application presented within an expanded cinema I demonstrate new ways of considering the impact of climate change on water, a finite resource.
Description
This is a two part Installation featuring a four minute Documentary on the harvesting of water from an iceberg for designer vodka, and a media based installation showing the melting iceberg projected onto a circular disk suspended from the ceiling. The url to the documentary is included above, as are three views of the installation.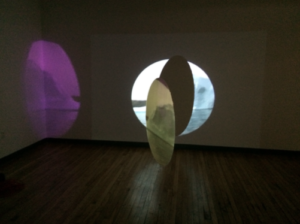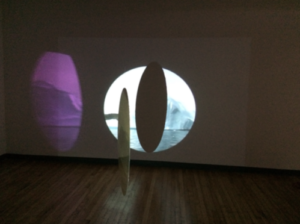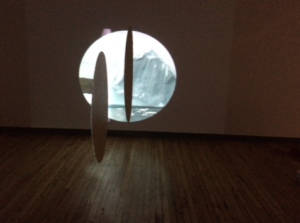 Author Biography
Annette Mangaard is a Danish born Canadian artist/filmmaker with an MFA from OCADU, whose work has been shown around the world at art galleries, cinematheques and film festivals. Installations sites include: the Armoury Gallery, Olympic Site in Sydney Australia; Pearson International Airport, Toronto; South'on Sea, Liverpool and Manchester, UK; Universidad Nacional de Río Negro, Patagonia, Argentina; and Whitefish Lake, First Nations, Ontario.
Mangaard has completed more then 18 films as an independent filmmaker, and retrospectives of her work have been shown in Berlin, Buenos Aires and Vancouver. Mangaard's films have screened at Festivals and Cinematheques around the world including: The Experimental Film Coalition, Chicago, The Collective for Living Cinema, New York, the SESC de Pompeia, Sao Paolo, Brazil, Ozfun Australian Tour, Ann Arbour Film Festival. Toronto International Film Festival, Vancouver Film Festival, National Gallery of Canada, Italy, Asolo Art Film Festival, Italy, DOCSDF Mexico City Film Festival, Hot Doc's, and Millenium, New York.
A recipient of numerous arts awards including Canada Council for the Arts and Ontario Arts Council, Mangaard has participated as a juror for the Governor Generals Awards in Visual and Media Arts, and on many Boards including as Chair of Planet in Focus Environmental Film Festival (2011'13).
Balance-Unbalance 2017
Balance-Unbalance (BunB)
is an International Conference designed to use art as a catalyst to explore intersections between NATURE, SCIENCE, TECHNOLOGY and SOCIETY as we move into an era of both unprecedented ecological threats and transdisciplinary possibilities.
Today Upcoming Events
No upcoming events for today
15 Next Events
No upcoming events for today