Listening to the Distance: Eagle
Yolande Harris (University of California, Santa Cruz, USA)
ABSTRACT:
'Listening to the Distance' (2013-15) is series of video, sound and image works that explore how we can experience and share distant environments, through animal visions, remote presence and underwater sound. Listening to the Distance weaves together Yolande Harris' artwork with her theories of techno-intuition and sonic consciousness, in which expanded forms of awareness emerge through technological media, sensory experience and critical listening techniques. 'Eagle' (2015) combines video of bald eagles with sea-glider sounds to explore a journey to spaces of mind that lie beyond everyday reality. Light Entering My Room (2015) fills a room with moving light revealing shadows cast through trees in an old growth rainforest in the Pacific Northwest US.
"Through my work I question the relationship between my embodied experience, technological mediation, and my conceptual understanding of planetary scale, remote environments and the life that inhabits them. What happens if I try to re-place remote sound within a contrasting context, so that it can form an active relationship to that environment, perhaps allowing us to experience a sense of remote presence? My hope is to unearth, or reconnect to, a dormant understanding of the interconnectedness of global ecologies."
DESCRIPTION:
Eagle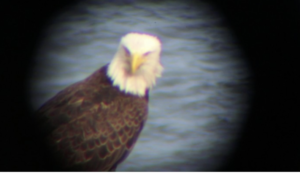 'Eagle' (2015) uses video, sound and images to explore a journey to spaces of mind that lie beyond everyday reality. The eagle is the guide to this other space, and the artist peers into the distance through layered lenses, allowing light seepage and time shifts, to record this journey through a crack in consciousness. The video and images search through the psyche to the intuitive landscapes perhaps inhabited by other beings (birds, whales) and archetypes (water, mountains). The images explore a blur and disruption of clear vision, the confines of a frame and motion, of trying to focus but being unable to, of scanning the land and sea, looking for … what? The close-up image and sense of searching is contrasted with the expansive space of long distance sounds. Listening to the electronic and acoustic sounds of a robotic sea-glider as it tracks through the ocean recording its environment, one enters the zone of drone sounds, occasionally hearing the calls of whales. Combining the technological glitches of the robot's sounds with the layered looking through lenses and projections, the work searches for a portal that allows us to extend our senses beyond the functional reality of technologies. The still images 'Eyrie' complement the experience of the large-scale videos by isolating individual frames in order to create a quality of timelessness and non-linearity. The complex drone-like environmental sounds focus the mind and create a space of intimacy from which to explore the individual frames and the visual possibility of time and journeying in stillness.
Light Entering My Room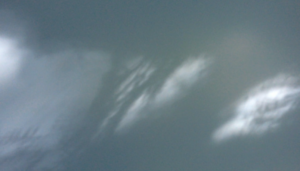 "Light Entering My Room fills a space in which the only sound was truly 'ambient'—the noise of the adjacent shopping mall coming as close to silent as the gallery allows. Here two corners of a dark room are lit by dim, cool light, as if by the moon (or perhaps a street light). The scene is warmed up by the dancing, wind-blown shadows cast by trees or shrubs. I was reminded of riding in the backseat of my parents' car late at night, watching passing lights sweep over the car's interior. Such ambient, accidental light forms an analog to ambient sound. Conventionally ignored in favor of illuminated stimulation, such lights have the power to calm the agitated modern psyche."(from exhibition review by Geoff Wichert)
AUTHOR BIOGRAPHY:
Yolande Harris works with sound and image to create intimate and visceral experiences that heighten awareness of our relationship to the environment. Her projects consider techniques of navigation, worlds beyond the range of human senses, underwater environments and our relationship to other species. Through video installations and performances, photographic prints, digital instruments, sound walks, performative lectures and writings, she integrates her artwork and theories of techno- intuition and sonic consciousness, in which expanded forms of awareness emerge through a critical use of media, observation and listening.
Yolande's exhibitions include the ICA London, MACBA Barcelona, Schirn Kunsthalle Frankfurt and the House of World Cultures Berlin. Awards and fellowships include the Mondriaan Fonds; Academy of Media Arts, Cologne; Orpheus Research Center, Ghent; Jan van Eyck Academy, Maastricht. She holds a PhD from Leiden University, an MPhil from Cambridge University and a BA from Dartington College of Arts. Her doctoral dissertation Scorescapes: on Sound, Environment and Sonic Consciousness, was awarded Best Doctoral Abstract by the Journal Leonardo. Yolande was Assistant Professor in the Film/Animation/Video Department at Rhode Island School of Design, and is currently teaching in the Digital Arts and New Media graduate program at the University of California, Santa Cruz
Balance-Unbalance 2017
Balance-Unbalance (BunB)
is an International Conference designed to use art as a catalyst to explore intersections between NATURE, SCIENCE, TECHNOLOGY and SOCIETY as we move into an era of both unprecedented ecological threats and transdisciplinary possibilities.
Today Upcoming Events
No upcoming events for today
15 Next Events
No upcoming events for today