FLUIDATA SOUNDSCAPE
Suzon Fuks & James Cunningham
suzonfuks@gmail.com
igneousdirectors@gmail.com 
Abstract
Fuks & Cunningham used walking as a medium to unpack the narrative and politics of the landscape. On a trip across Queensland, Australia over a period of 56 days and 7,500km, the pair crossed 663 waterways, confronted the environmental extremes (lush subtropics and the dry outback) and explored waterways by walking them.
Accustomed to a life of instantaneousness, productivity, and "getting there" (the straight line), Cunningham and Fuks made this deliberate decision to slow down, allowing their bodies—and their digital devices—to absorb the landscape and the moment–"being here". Unhurriedly, they walked the way of the water (the meander).
Recordings of the ambient rhythms of selected creek environments are meshed with farmers in remote places recounting extremes of drought and flood—which is considered normal from the perspective of deep time—and concerns over mining, CSG fracking and the degradation of aquifers.
The artists aim to bring awareness of environmental and ideological issues concerning water linked to climate change, environmental activism and sustainability.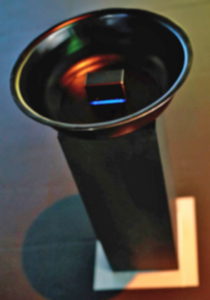 Author Biographies
SUZON FUKS is an artist bridging art, science & the environment, using body-based practices, the moving image, photography & interactive technologies. She initiated the Water-wheel.net global community and platform. She focuses on water issues, refugees and knowledge transmission.
JAMES CUNNINGHAM is a performance, movement, video and networked performance practitioner working in social, environmental and architectural surroundings, exploring the limits of bodily perception, performativity and the relationality of one's self with others, objects, and environment.
IGNEOUS, Australian multi-arts organisation established in 1997, has been directed by James Cunningham and Suzon Fuks since its inception. Igneous' work has received national and international recognition across a broad spectrum including networked performance, dance, screendance, new media, disability, puppetry, live art and visual theatre.
Their interests lay in research, processes, interaction and diversity.
Balance-Unbalance 2017
Balance-Unbalance (BunB)
is an International Conference designed to use art as a catalyst to explore intersections between NATURE, SCIENCE, TECHNOLOGY and SOCIETY as we move into an era of both unprecedented ecological threats and transdisciplinary possibilities.
Today Upcoming Events
No upcoming events for today
15 Next Events
No upcoming events for today