'Broadmead – The Movie' 
A film by Stanley Donwood and Mat Consume
Narrated by Lexden Morant
Music composed and performed by John Matthias and Jay Auborn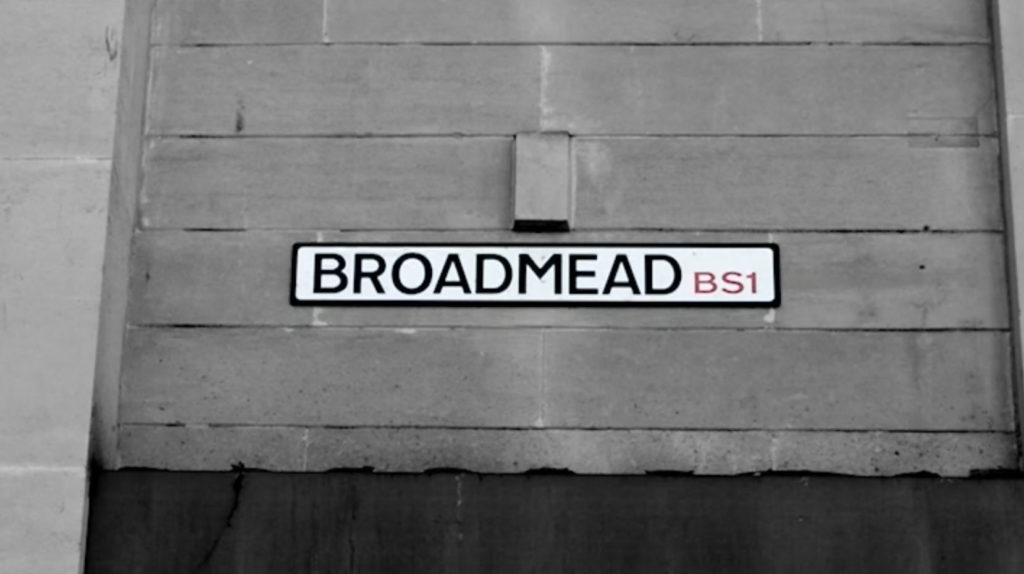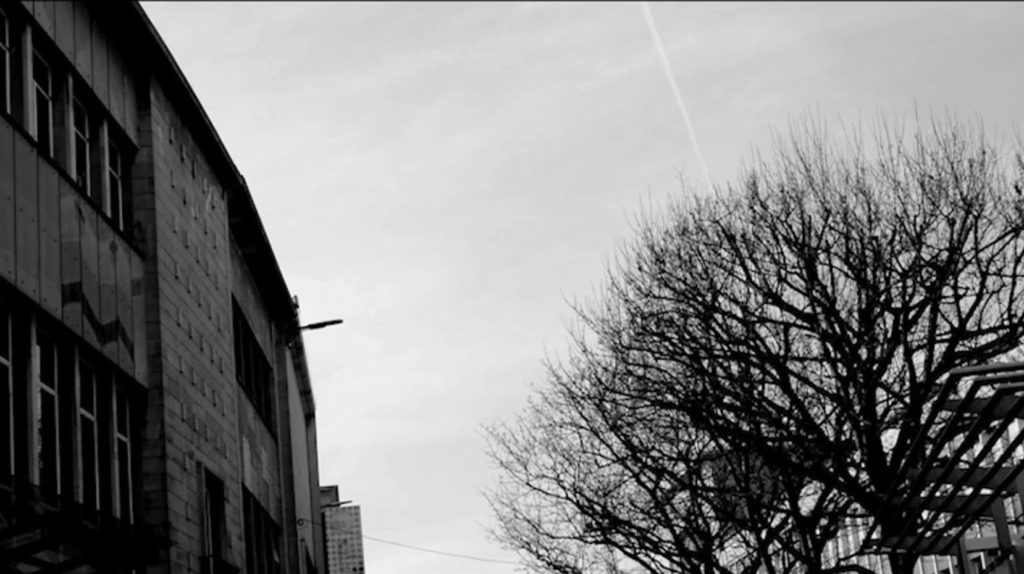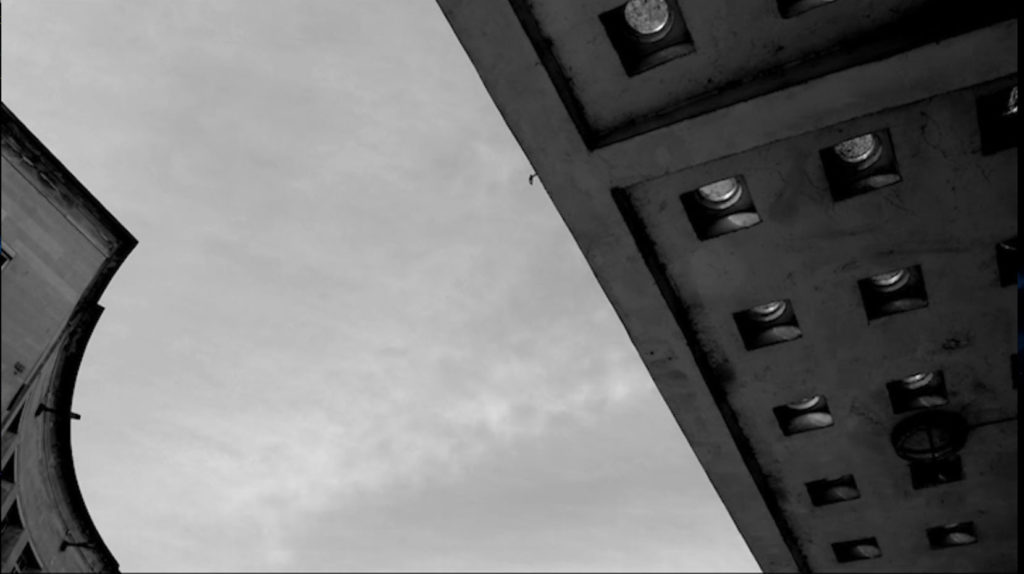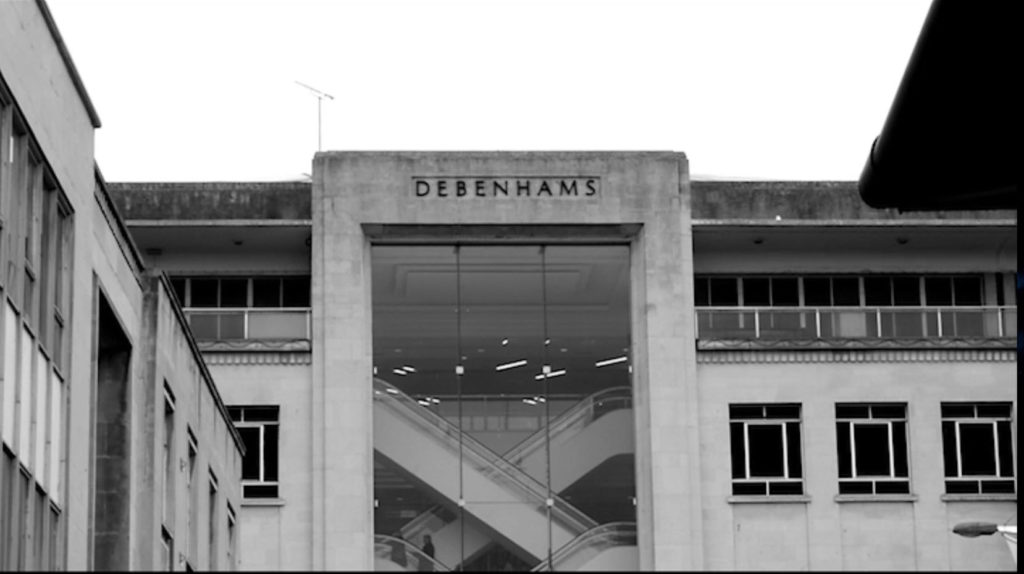 DESCRIPTION:
Broadmead is a shopping area in Bristol, England. Construction began after the war, during which the area was badly bombed. The architecture is utilitarian, vaguely scandinavian, using mostly concrete as well as stone and slate, a nod to the local architectural vernacular. Since the 1980s the area has been redeveloped in a piecemeal fashion which has gone on in tandem with the increasing privatisation of public space and the growing popularisation of pedestrianised retail space.
These newer developments – The Galleries, and Cabot Circus – have contributed to the sense that Broadmead itself is seen as a poor relation. Very few people have anything positive to say about it. The shops are almost all chain stores and the size of each space is, in modern terms, relatively modest. All in all, it's unappreciated, and probably for good reason.
But Broadmead is typical of overlooked, neglected, unappreciated aspects of postwar history – the social contracts formed after centuries of war in Europe, part of the brave new world, of the 'white heat of technology', the 'never had it so good' world of the 50s and 60s. Unlike Cabot Circus, Liverpool ONE or many new shopping areas Broadmead is public, not private space, born of the same era that gave the UK the Welfare State, and the National Health Service.
The film Broadmead – The Movie is somewhat elegiac, where the soaring flight of a seagull or the sad flapping of a discarded plastic bag conveys a sort of bleak beauty – particularly as each shot is a static shot lasting several minutes. The film is a series of 'moving photographs' – in many, many ways the vision for this film is heavily influenced by Patrick Keillor's 'Robinson in Space'… but also 'Kes', 'Get Carter' and the realist films of the 60s. In some ways it's like flipping very slowly through a series of dull postcards.
The weather is boring. The season is early spring. The photography concentrates on the skies and the architecture of Broadmead, rather than the modern pedestrianisation, the shop signs, the shops or the shoppers. Humanity is seen only rarely, and then at a distance; for instance, the transit of shoppers on multiple escalators seen through the plate glass of a branch of Debenhams.
Accompanying the mournful, deadpan narration is a beautifully sad score written and performed by John Matthias and Jay Auborn; with titles named for the chain stores of Broadmead.
It is an elegy for a decaying shopping precinct, a memoriam for a lost dream, a lament for a future that was sidelined – a requiem for a society that slipped through our fingers as we toyed with the transient baubles of late-period Western Capitalism.
BIOGRAPHIES
Stanley Donwood is the pseudonym of Dan Rickwood (1968, Essex, England). He is known mainly for his collaboration with the rock band Radiohead and their frontman Thom Yorke. Donwood studied at the University of Exeter, where he met and became good friends with Thom Yorke. Since the mid-nineties, he has been designing the album covers and posters for Radiohead and for Yorke's solo projects, and has thus created the visual identity of the world-famous musicians. Besides these designs, Donwood also makes many cheerful-looking illustrations with socio-political messages, and autonomous work that conjures up open spaces and desolate landscapes. Alongside his work as an artist, Donwood writes and publishes books of short stories, including Humor (2014), and he blogs about everything he is doing on his own site slowlydownward.com.
Mat Consume is an artist working in multiple medias responsible for 60+ lps, cds, & 12″s, videos and VJing. All this along with all the other merchandise; basically lots of shit that you don't need. He' d go further and tell you that he was a founder member of no future in Brighton/Berlin during the 90's, being an international jetslag DJ. Then he started to lose his hearing which is when he started the video/ short film animated action. He's asked me not to mention the fact that he was also a founder member of plastic reality / plastic pictures, because who they now work for is shameful.
Anyway he now lives in a castle in Bristol, England counting his monopoly millions which aren't his. He knows the secret identity of Banksy Stanley and Uncle Oswald.
John Matthias is a musician and composer who has released five albums via Accidental, Ninja Tune, Nonclassical and Village Green. He has collaborated with many artists including Radiohead and Coldcut and has had his music remixed by many artists including Thom Yorke, Matthew Herbert and Prince Jammy. In 2008 he won the UK PRS Foundation New Music Award (The 'Turner Prize' for music) with Jane Grant and Nick Ryan for the development of a huge sonic installation based on a mathematical model of the human cerebral cortex entitled 'The Fragmented Orchestra'. He has contributed music to several feature films including 'The Hamburg Cell' (Edinburgh International Film Festival), 'Three degrees colder (Locarno Film Festival), 'The Domino Effect' (Netherlands Film Festival), 'Pelican Blood' (Edinburgh International Film Festival) and 'Poorboy' (Tribeca Film Festival), written scores for short films 'Out of Time' (Cannes straight-8 2009) and 'Henry Cowell' (Rushes Soho shorts festival) and theme music for the BBC TV drama 'The Village' (2013). He has a Ph.D in Theoretical Physics from Exeter University, UK.
Jay Auborn is a producer and musician based in south west England. An art school drop-out that fell in love with the sampler. His new album 'Race to Zero' marks his debut for Village Green records, and the continuation of a creative partnership with John Matthias. Recent work includes sound design and music to accompany an exhibition of Gerhard Richter paintings for Artist rooms, scoring and producing music for Stanley Donwood's and Mat Consume's film 'Broadmead – The Movie ' and Robert Scott Wilde's film 'Poorboy' which was premiered at the Tribeca Film Festival 2016. He is  currently based in Bristol, England at dBs Music where he works as in-house producer.
Balance-Unbalance 2017
Balance-Unbalance (BunB)
is an International Conference designed to use art as a catalyst to explore intersections between NATURE, SCIENCE, TECHNOLOGY and SOCIETY as we move into an era of both unprecedented ecological threats and transdisciplinary possibilities.
Today Upcoming Events
No upcoming events for today
15 Next Events
No upcoming events for today