Arboretum: Rhizomatic Polynesia
Ian Clothier (Intercreate/Western Institute of Technology at Taranaki, Aotearoa New Zealand)
Projcect Website: http://ianclothier.com/arp/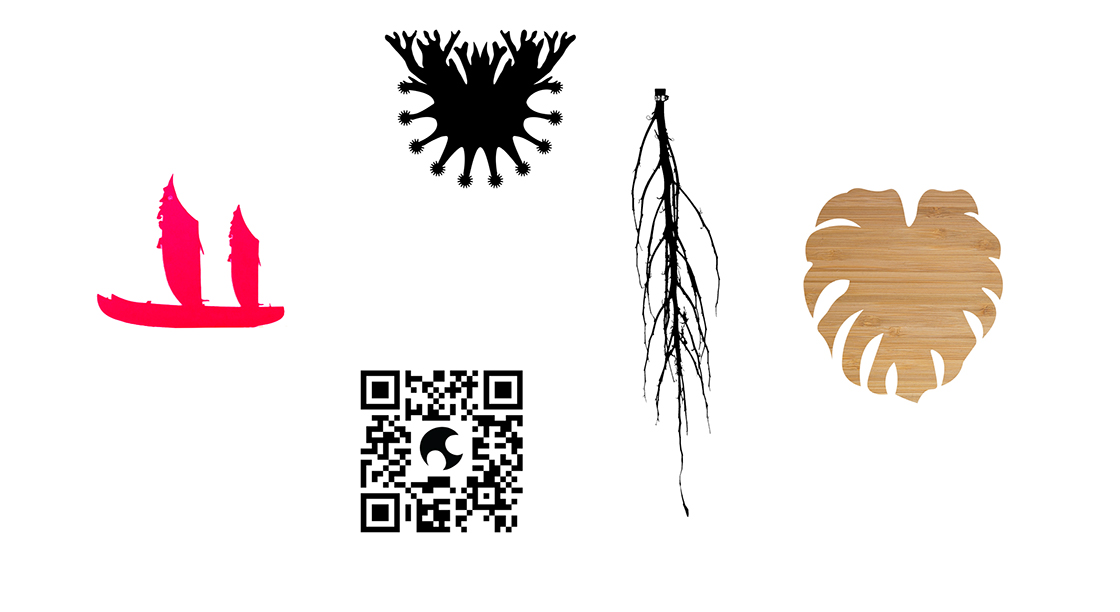 Arboretum: Rhizomatic Polynesia
Being aware of our local and global sense of place is necessary to driving forward solutions to climate change. This art work examines issues around a changing sense of place for plants, in the context of an integrated systems view.
According to the Plymouth City Council (which has incorporated the following into planning), by 2055 sea levels will have risen by 8mm, rainfall increased by 10%, river flow by 20% and wave heights by 5%. These changes to sea and storm events, will be accompanied by an increase of 2.7 degrees in summer temperatures, a 2.1 degree increase in winter temperatures and a 17% change in winter rainfall. That is a lot of excess river flow and winter rainfall being planned for. The consequences for local plants is not straightforward, as the unpredictability of natural systems comes into play. Dynamics in the real world do not follow simple rules of logic and determinism.
"Like animals, plants require specific environmental conditions—such as the right temperature, moisture, and light levels—in order to thrive. Even small changes in environmental parameters can affect the reproduction and survival of a species. As global temperatures rise, both animal and plant populations are projected to gradually shift toward northern latitudes and upward to higher elevations where temperatures are cooler in order to stay within their ideal range of environmental conditions."
Alas such a simple scheme is not the case.
"The results of the analysis were unexpected. More than 60% of plants shifted their distributions downward, toward warmer, lower elevations—despite significant climate warming across the regions under study, the team reported online on 24 July in Global Change Biology. Even more striking, all plants within a region—regardless of species—moved in the same direction.
"Initially, we thought there was something wrong with our analysis—species distributions are expected to shift upward, not downward," says team leader and plant ecologist Melanie Harsch. "But we redid the analysis and we got the same results."
A closer look revealed that the downhill movement of plants was likely driven by the changes in precipitation that accompanied warming temperatures. Those regions that experienced less rain and snow at high elevations were those with plants shifting toward lower elevations with wetter climates. "Less snow in winter translates into less water in summer, resulting in water-stressed plants and downward shifts," Harsch says.
Although plant populations are shifting downward toward greater water availability, they will also have to contend with an increasingly warming climate. "It's a double-edged sword," Harsch states, "as temperatures rise, water needs will also increase."
There is a complexity in the impact of climate change on species, related to environmental specificity and localised conditions. In addition:
"… the timing of flowering in plants and breeding in birds – are generally more sensitive to temperature change, than to changes in rain and snowfall… According to the findings, published in journal Nature, plants and animals respond differently to temperature changes at different times of year and seasonal relationships between predators – such as insect-eating birds and plankton-eating fish – and their prey could be disrupted in the future."
As with natural systems in an integrated condition, predictability is compromised as a function of sensitive dependence on initial conditions, feedback and time. Arboretum: Rhizomatic Polynesia recognises integrated systems as important to the environment and the human conception of nature. The rhizome of Deleuze and Guattari, integrated systems within business and science, and connection in Polynesian philosophy all share a fundamental premise: reality as an interconnected heterogenic multiplicity.
An arboretum is a collection of trees, and can be used to refer to shrubs and vines. This arboretum is a collection of symbolic reference points, with interrelated components.
An extrapolation of symbols references integrated systems. A relatively rare craft, the pink fluoro va'a or waka, is a Tahitian catamaran design with distinctive sails, capable of traveling great distances with stores, one means by which plants have moved as a rsult of human action, in this case up to 3000 years ago. Here ther eisa personal integration as a significant line of my genealogy traces back to Tahiti.
The long branching black vinyl is based on a traced photograph of a dessicated Yucca flower, a plant which is native to arid regions but now thrives in the high rainfall climate of Nga Motu New Plymouth where I live. The Yucca may well be the plant of the future given it's high capacity to adapt to changing climate.
Frost will kill the bisexual fruit salad plant, and over the thirteen years since moving to the place I live now, frosts no longer occur in winter. When we first moved here, every winter there would be a light dusting of frost at one corner of the house. Today, no more.
Like a yin and yang of climate change, the black form is algae above and coral below. Corals are bleaching in the Southern Hemisphere and algae is blooming in the Northern Hemisphere.
Mechanistic modernity in a network environment is referenced in the functioning QR code, the decoded identity signal of which is this page.
Such is the rhetoric of climate change, a heterogenic multiplicity in an integrated system composed of data, DNA, plant adaptation, climate, frost, bisexual flowering plants, living organisms and the network, connected ultimately to the individual in unique ways.
As well as highlighting the issues above, the process of realising the artwork was drastically altered in order to reduce the carbon footprint of the project. It is customary in the arts, to ship art works in custom made containers to their sites of exhibition and then return freight them afterward. This would be equivalent to a trip around the world, at a carbon cost of 2.85 tonnes of CO2.
Consequently working with director Mike Phillips and local collaborator Stavros Didaki,s digital files were sent so that the art work components could be sourced and cut locally. This involved reworking the visual expression of the art work. But this kind of approach is needed in the face of climate change. Had I also travelled to the symposium, the carbon footprint of the project would have doubled. The approach taken to balance-Unbalance at Plymouth in 2017, therefore has taken 5.7 tonnes of CO2 from the carbon cost of participation. Of course, we can't all do this all the time but most of us should some of the time. It takes open minds in the organisational structure to achieve, and I'm really thankful to Mike, Stavros, the Eden Project, Ricardo dal Farra and Birgitte Aga for supporting this approach.
Images above are on the digital files sent to Balance-Unbalance 2017. Below is the work in process in the studio as originally visualised.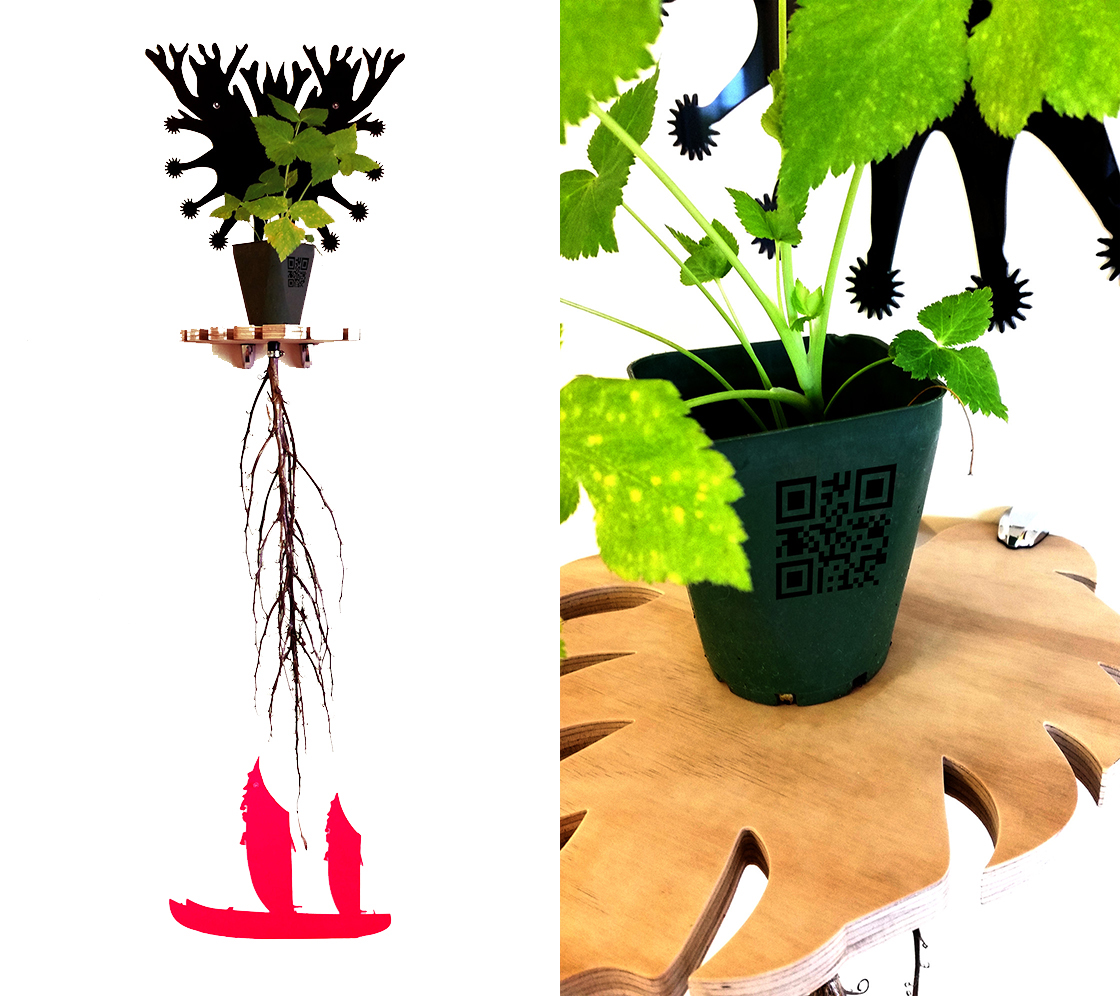 Incorporated into this small scale integrated system was a feather from the Piwakawaka or fantail, native to Aotearoa New Zealand.
AUTHOR BIOGRAPHY:
Ian M Clothier is an artist and collaborator, curator, Research Director at Intercreate Research Centre; Senior Academic at Western Institute of Technology at Taranaki; co-founding Director of SCANZ (Solar Circuit Aotearoa New Zealand) with Trudy Lane, Adam Hyde and Nina Czegledy; and past board member of ISEA International.
A hybrid Polynesian, his DNA traces through Te Wai Pounamu (South Island, Aotearoa New Zealand), Norfolk Island, Pitcairn Island, Tahiti and Polynesian culture to Lapita; while other lines trace back through the Isle of Man, England, the Shetland Islands and Nordic countries.
His career extends to eighty five exhibitions in fourteen countries, along with twenty four publication credits. Recent curatorial projects include Water, Peace, Power 2016; Sharing the Waiwhakaiho (2015); SCANZ2015: water*peace; Media Art Projects 2014, and 3rd nature at Puke Ariki in 2013.
Since 2009 his projects have been selected for exhibitions including Diffrazione Festival Florence 2016, Balance-Unbalance 2016 Manizales, Festival of Lights New Plymouth 2016, A delicate balance: rongo taketake a taane Auckland 2015, Pacific Shortcuts Croatia 2014, Balance-Unbalance 2013 Noosa, Machine Wilderness ISEA 2012 Albuquerque, Uncontainable ISEA 2011 Istanbul Exhibition, Cultura Digital Rio de Janeiro, What if at Puke Ariki Museum New Zealand 2010 and ISEA 2009 Belfast Exhibition.
Balance-Unbalance 2017
Balance-Unbalance (BunB)
is an International Conference designed to use art as a catalyst to explore intersections between NATURE, SCIENCE, TECHNOLOGY and SOCIETY as we move into an era of both unprecedented ecological threats and transdisciplinary possibilities.
Today Upcoming Events
No upcoming events for today
15 Next Events
No upcoming events for today